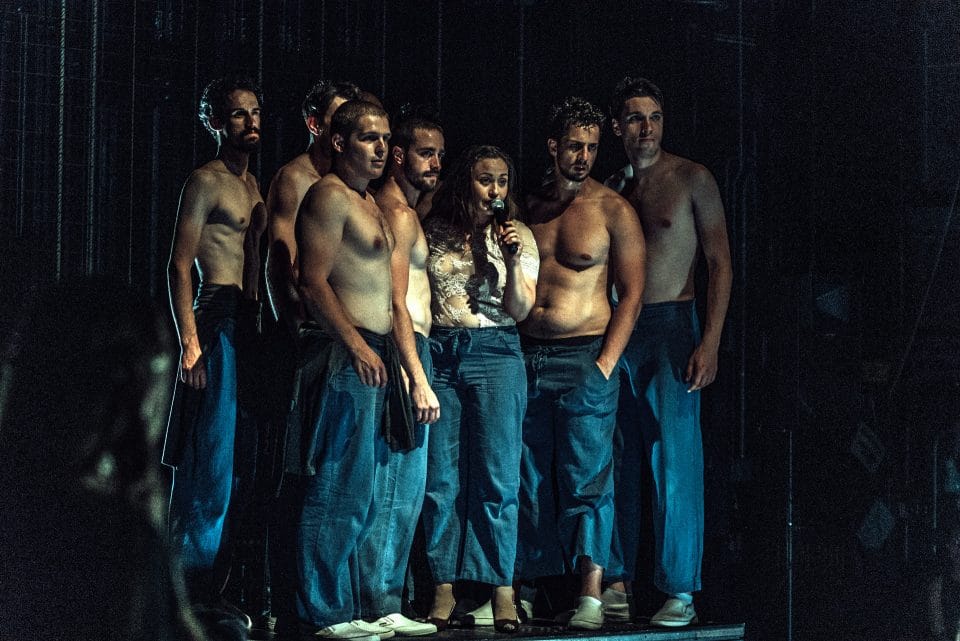 Cast: Katarina Bradonjić, Dimitrije Aranđelović, Tamara Šustić, Kemal Rizvanović, Fedor Đorović, Sanela Krsmanović-Bistrivoda, Miloš Lazić, Peđa Marjanović, Mina Pavlica, Dražen Pavlović, Gabor Pongo, Mia Simonović, Ema Stojanović, Marko Vasiljević, Dušan Vukašinović, Nikola Živanović Set design: Lada Maglajlić i Vedad Orahovac Music: Rastko Ilić Light design: Nikola Marinkov Graphic design: Enes Huseinčehajić Costume design: Irma Saje Choreography: Thomas Steyaert Production: East West Center Director: Haris Pašović
"The idea for this performance originated from my master classes at the Academy of Arts in Novi Sad, Serbia, in early 2016, when I was working with the students of acting in the class of Prof. Boris Isaković. We worked on the theatrical portraits of several people who gave their lives for their ideas. I asked the actors who are all in their early 20s: "What would you give your life for?" When we exclude the family that most people would sacrifice their lives for, the question remains whether is there any idea or project for which we would give our life? The young actors were confused at first. Some gave the ideological answers but on the second thought some or them expressed rather nihilistic views. That's how it began this extremely exciting process in which we considered ideas, philosophies, beliefs and politics behind someone's readiness to sacrifice his/her own life for. In a parallel process we also investigated the new theatrical forms since I believe that the new age requires the new theatrical expressions too.
The Age of Universal Communication, in which we live, changes paradigm of our communication. Who are the identities that communicate in the virtual space? Real people? Individually created identities? Groups with a common "voice" in a form of one identity? Automated identities? Modern Communication includes all these forms of identity in the virtual space. Storytellers in our age are the entities behind the IP addresses; it is less important who are they, and where are they, than what are they saying. Their identities communicate in a virtual intellectual space / time. Each identity has access to the totality of a story, follows it and co-constructs it by its own contribution. This may sound complicated for a moment, but it is not actually. It's just a contemporary discourse that goes beyond traditional dramaturgical forms, as they are insufficient for a new paradigm in which we live.
Theatre that we create is intellectual theatre, but it is not alienated from the viewer who has no higher education. On the contrary, our theatre is available to each viewer; ideas belong to everyone. Our theatre is based on facts, but it is not a documentary theatre. It is a Theatre of Reality. Life and art unite in a theatrical testimony that is so urgent."
Haris Pašović